UN WEEK-END NEL 2063
masterclass di immaginazione di futuri
OPEN CALL (English below)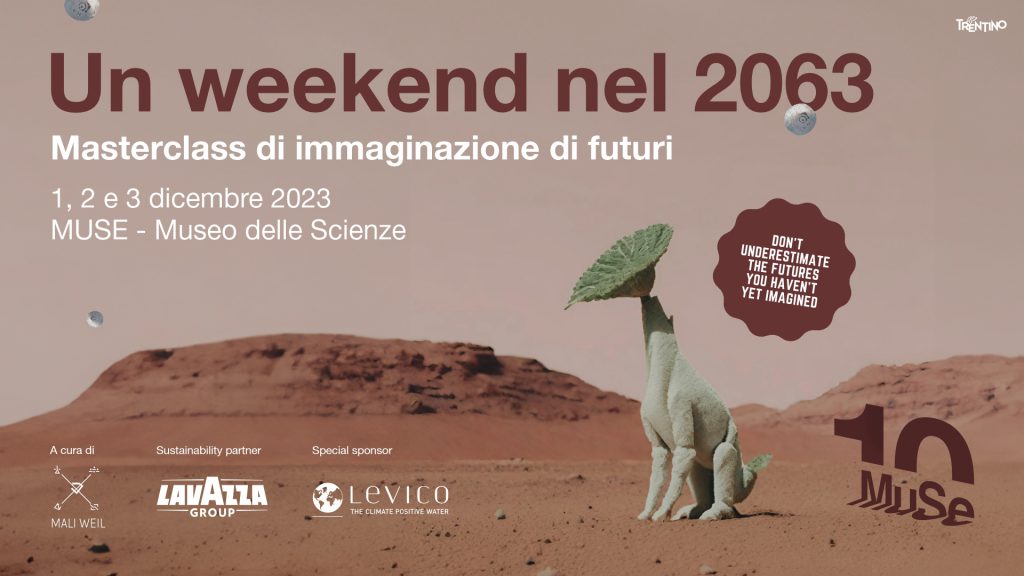 Tra l'1 e il 3 dicembre il Muse – Museo delle Scienze ospiterà un esercizio collettivo di immaginazione di futuri.
Com'è prassi LIKE LIFE si articola tra attività pubbliche e altre a numero chiuso, dove un gruppo di artist_, designer, student_ selezionati tramite open call avrà l'opportunità di seguire un programma pensato per approfondire i temi trattati, prototipare cambiamenti, immaginare futuri e costruire un dialogo con l_ ospiti.
La partecipazione al programma a numero chiuso è gratuita previa iscrizione.
CALL, INFO E LINK PER APPLICARE
—> Masterclass 2023 – Open Call (Download)
Deadline prolungata al 22/11/2023
---
A WEEK END IN 2063
masterclass to imagine futures
OPEN CALL
Between December 1st and 3rd, the Muse – Science Museum will host a collective exercise of imagining futures.
Like Life program unfolds between public activities and others with a limited number, where a group of practitioners, artists, designers and students selected through this call will have the opportunity to follow a masterclass program designed to delve into the topics, prototype changes, imagine futures, and build a dialogue with the guests.
Participation in the limited number programme is free of charge after registration.
CALL, INFO AND LINKS TO APPLY
–> Masterclass 2023 – Open Call (Download)
DEADLINE Extended to 22/11/23
Deadline 22/11/2023
Sustainability Partner
Special Sponsor